A tumultuous 2020 recast retailers as essential service providers operating on the front lines in the face of a crisis. Strategic plans were either completely rewritten or thrown out altogether as the industry went into rapid response mode, innovating to meet the needs of consumers and communities.
"The pandemic forced us to make big changes to the operational structure. There was more focus on online strategies and a different level of focus on in-store operations." – Grocery executive
Cotiviti Retail's original research explores how retailers continue to accelerate transformative change and remain resilient in response to trends exacerbated by one of the most challenging years in recent memory. A cross section of 100 leaders in the grocery/drugstore, mass merchant, specialty, and department store sectors shared insights and predictions about the following:
The pandemic's prolonged impact on the retail industry
How the pandemic will reshape strategic priorities in the coming years
The role of suppliers in navigating the COVID-19 crisis
Drivers of future success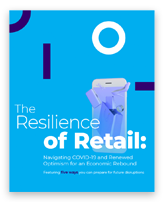 Read the full report to learn how the future of retail appears even more resilient after the events of 2020.